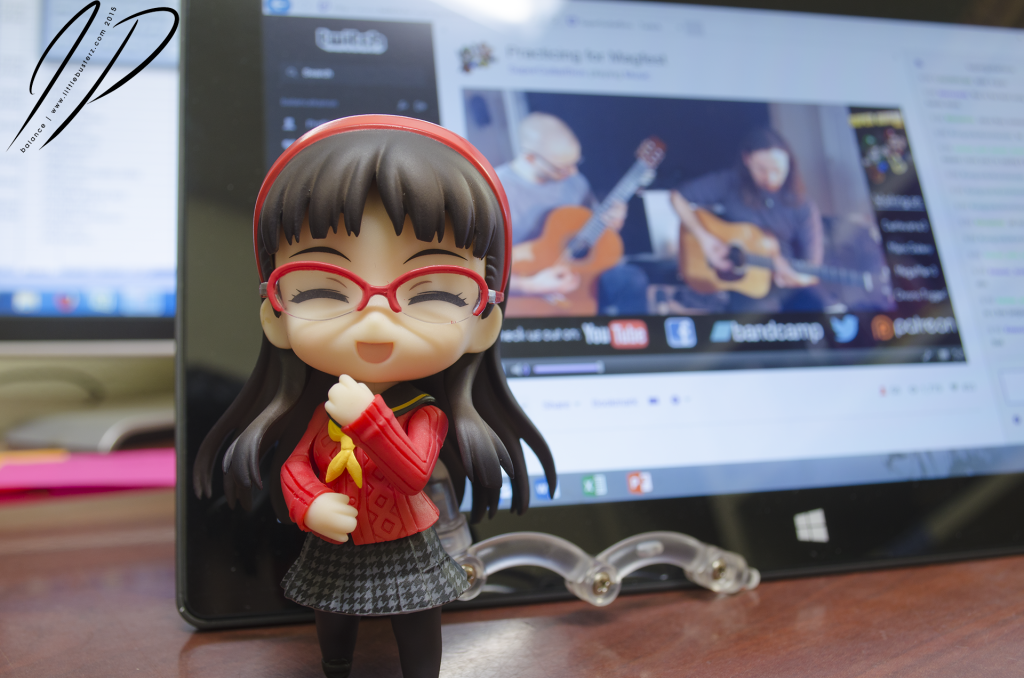 As I pointed out earlier this week, I will be posting at least once a week. I'll try to aim for the weekends, but don't worry. I'll still find a few other things to post about.
So yeah, my year has actually been going really well. The store is starting to pick up a little and we actually broke the record on Friday (made over 1k+). Certainly a nice way to start the new year. While nothing of major importance has happened yet (I doubt anything would so early in the year anyway), something did happen which was almost frightening but turned out to be nothing.
Thursday night, first day of the year, I had just closed the store and was ready to leave. I noticed the Gyro Zone's door (restaurant that's right next door to my business) was wide open. To be honest, I had noticed that it was wide open for a while now. I didn't think too much about it since some of the employees there would hang around and chat with their friends before they would leave. However since there was no cars in the parking lot (other than my own, obviously), I grew a bit suspicious.
I called out into the empty store to see if there was anyone in there. I also noticed that the cash drawer was left out in the open completely empty save for a few receipts here and there. I had called my father to see if he had Ali's phone number (name of the owner). After I found out that he didn't, I dialed 911 to report a possible theft. I happened to wait around just long enough for the cops to come around.
As one of the officers went inside to inspect the store, I was chatting with the other officer that stayed outside. The officer was very friendly and he had a lot of interesting things to talk about. It was very clear to me that this man reflects upon himself and his surroundings and had some solid points with the topics he brought up. It was a fairly refreshing chat to be honest.
After about 10-15 minutes, the other officer found that nothing had been damaged or stolen. Thus, in order to lock the front door, he locked it from the inside and went out through the back door (the back door does not have a knob). I then thanked them and went back inside my own store to make sure I had all the locks on my back door secured. I also called my father so that he would be able to tell Ali first thing in the morning.
The next day, I come into the store and asked my father about what Ali had said. Turns out that there was no robbery that took place. The cash drawer is always empty every night because Ali takes it home with him. I guess he doesn't have a safe and feels better to have it with him than to have it in the drawer. He also leaves the drawer out in the open so that he can show possible thiefs around the area "there is nothing to steal here" or something similar among those lines.
In the end, someone simply just forgot to lock the door. There was no forced entry so it was obviously just forgotten. The funny part was apparently Ali (and another employee) had seen me talking to the police but they didn't think too much about it. I was just happy that it was simply a misunderstanding. Speaking of Ali though, he's been really getting on my nerves lately. Long story short, he said something really passive aggressive to my father which was really uncalled for which resulted in me lowering my respect for him than what I already had for him.
So far, the new year has been progressing fairly well. My sister will have to go back to her dorm tomorrow (or rather, later today technically) as school starts on Monday for her. While I may not have had too much of a chance to really hang out with her, I don't think it's too big of a deal. There will always be chances later in the future. Besides, speaking of the future, she has to work hard to make sure that she can get to where she wants. It's not as though I can't chat with her over through some medium.
I wish there were more to talk about, but as you guys may already know, nothing much really happens during my days anymore. However I will bring one topic up.
In regards to the Miniature Armageddon story: I went back to read some of what I have written and I'm actually a little disappointed in myself. It sounded good at the time, but I don't think I really gave it enough time to really flesh out the way I wanted it to. In the end, it was given a Picard ending (meaning that it was finished hanging with no real sense of conclusion and a lot of questions still unanswered). Since I didn't really have too much time this week, I will see if I can make something next weekend to help remedy the ending a bit.
As always, thank you for staying with me (especially those of you who are still here despite the fact I no longer post daily) and I hope you guys have a good one!