For those who are merely interested in seeing the pictures I took, just skip towards the bottom. I'm going to be taking the time to blog about my experience.
Jack snores pretty loudly.
Nevertheless, I was able to sleep pretty well. I do recall waking up a couple times wondering where I was. It was certainly nice though to know that I wouldn't have to suffer waking up early just to get a good parking spot near the convention center so I slept a bit more to make sure I'd have enough energy for the rest of the day.
If I recall correctly, I was one of the first to wake up. I wanted to get a bit of an early start to find some people to take pictures of. After putting on the Kirito cosplay yet again, I went out.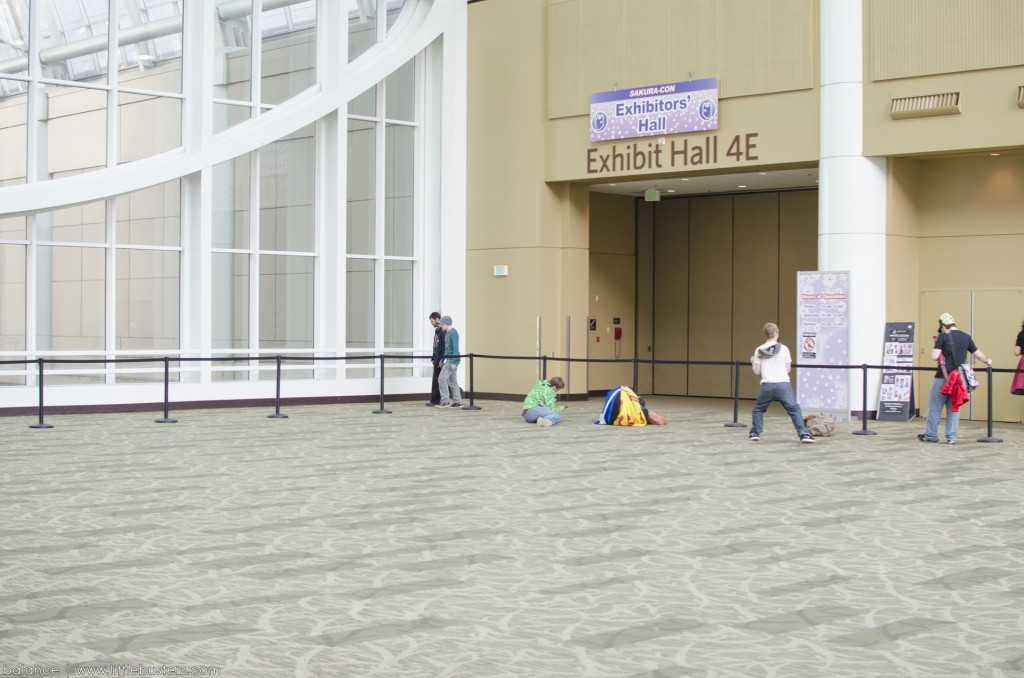 Damn. No one. Oh wait.
These were the only ones that I found at the time so I asked for their photos and continued to roam around until I bumped into my friends.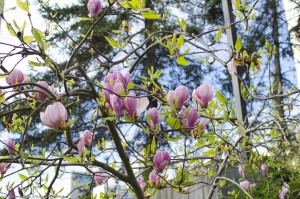 Now this is one of those points in time where I wish I had at least written down a small list of events that had happened on a notebook or something because I know I will get things out of order or forget a few things here and there. I know for a fact that I roamed around a lot, bumped into a few people I recognized from the year before, took a lot of pictures, hung out with Mamitan with Meta, and many other small events that passed while I was there.
There were many instances where my group and I would split up and agree to meet back up at a certain place at a certain time. During these times, I mostly hung out with Meta. Like yesterday, he would continue to point out everything I would say and/or do which made me continuously self-conscious of all the things that I do (ended up being more hilarious than embarrassing).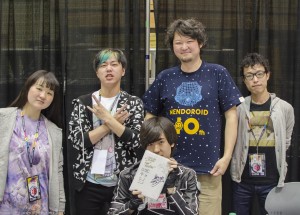 I decided to go to the Good Smile Company autograph panel not really for the autographs itself but to take a picture with the four of them since I didn't really have the opportunity to do so at the guest reception.It was fun and they probably figured me as some weird stalker at that point. Ahhh the joy of being a fan. (;´Д`)
I also decided that today would be the day that I would actually make some purchases in the exhibit hall. It wasn't much but for roughly 100, I picked up two Little Busters figure blind boxes (my friend Leyzee got one for me and her yesterday so I'm paying her back for that),  a Patchouli Knowledge Nendoroid, and two Rewrite figurines that were at a really low price (found out why after opening them at home). I wasn't going to carry them with me all over the place so I quickly left to drop them off at the hotel. I had also passed by a few people that I would have enjoyed taking a picture of but I could not as my hands were full. Damn.
We also ran into one of Jack's cousin named Jesse. Like Jack and I, he was into photography. Well, in reality it's his job and his life passion. He's way more knowledgeable in the field than both of us combined and he really wowed us with just how much he knew. I took a look at his portfolio real quick and he had me quite shocked. Definitely someone I will have to look to when asking for opinions and advice. He hung out with us for a bit before disappearing again.
After a while, I met up with Meta to go to the Good Smile Company panel which was around 4. When we got in, they had announced they were going to do a live sculpture and also announce a new nendoroid that would be coming out. Before they did that though, they showed a really nice anniversary video that showcased all the nendoroids they had made since the very beginning. They still never showed what the 600th nendoroid will be. Even after we found out that they were sculpting Tatsumaki from One Punch Man (which made it obvious as to what nendoroid they were going to be announced that would be released), it was less likely it would be the 600th. For whatever reason though, I was extremely tired. I found myself dozing off in the middle of the panel. I woke up in time to realize that we all would have to leave shortly to prepare to head towards the Band-Maid concert (which would start around 6:30).
After heading into the hotel room and getting changed, I went out to meet with the rest of my group. I was a little excited since we would be able to get hotel priority seating.
At least… that's what we had thought.
Apparently the hotel priority seating was going to take place at 5pm (and I had gotten there around 6pm). So unfortunately we were going to have to wait in line with the rest. I felt pretty bad for causing the rest of the group to having to sit far back. Hopefully next year we'll keep this in mind. Though I do find it a bit odd they'd do this a whole hour and a half before the concert would begin. Oh well. I'm sure it's not without reason.
The concert itself was kind of a mess. Whoever was running the concert did about three false starts, did terrible sound checking (the vocals were completely muffled, sounds were screeching, and some of the wrong guitars were given sound priority over others), and had a bit more blinding lights than I would have preferred. It started getting better towards the end but I feel that they could have done better. Though I suppose I should be fair and admit that it's not as though they could do an actual rehearsal considering that the main stage is practically in the heart of the convention center. Everyone would (probably) been able to hear the music if they did. Nevertheless, I'm sure everyone enjoyed it for what it was.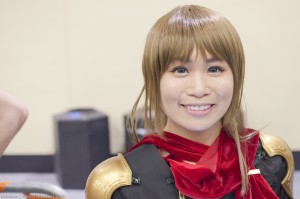 Shortly after the concert, Carmina and I went to the post-concert autograph line. We had thought it wouldn't take them long to come out considering that it had ended earlier than the schedule anticipated (schedule said it'd last until 8:30, it ended at 7:30).
We were wrong.
I guess they decided to keep with the schedule and brought them out at 9 o'clock as the schedule suggested that they would considering we had been waiting for a long time. During that time, some random person came up to Carmina with kind of a wide-eyed look on his face and just started chatting.
"… Hey. What's this line for?"
Carmina looked a bit shocked as though this guy's arrival was unwarranted.
"Oh, it's the line to get an autograph from Band-Maid."
"Oh I see," the man replied. "I already got their autograph yesterday. I'm not in the line because I want to be fair."
The more this guy talks, the more I find him peculiar. His mannerisms and fish-eyed look gave off this very awkward atmosphere which almost felt invasive in a way. He also wouldn't go away. I guess he figured Carmina was someone that was easy to talk to.
"Yah yesterday when I went there, I said hello in Japanese!"
Carmina and I were dying inside. Both of us aren't exactly fluent in the language, but we definitely know more Japanese than the next person. Especially for Carmina considering that she needs to know for her job.
The young man continued on rambling about how his experience was, repeating a few things perhaps at the maximum of five times, suggesting we should greet the guests in Japanese (as if we weren't going to), until he was exhausted of topics to go on about (which really wasn't much). He did occasionally return every once in a while, but it wouldn't be for long. After a while, Carmina and I would look at each other and just make idle chat.
"こいつ、へんな人だよな。" [That guy was pretty weird.], I exclaimed to Carmina after he finally left us alone.
"本当だ。気持ち悪い。" [Seriously. What a creep.] Carmina breathed out, somewhat exhausted from standing up for so long.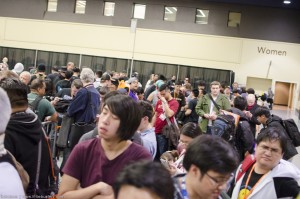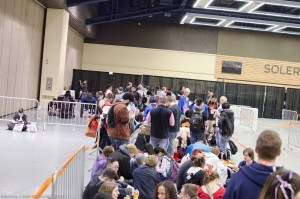 When it finally reached 9 o'clock, Band-Maid finally came out and they were getting ready to do the autographs. We were pretty relieved and a bit annoyed. Obviously by staying there, we were able to ensure we'd get an autograph, but that came at the cost of wasting almost an hour and a half of what could have been potentially filled with something better to do in our time. Especially since I was still determined to get some good pictures of cosplays. We both felt even worse for our friends who had come and went while waiting for us. I'm just glad they're the kind of friends who don't mind these things. I also noticed Jesse was there too which was nice. The more the merrier (and I'm glad he was cool with waiting as well).
Upon reaching the table, I grabbed two CDs to purchase. It was unfortunate that they left during the reception yesterday as I really wanted them to sign my photobook that I made through Kickstarter. Nevertheless, I had already promised a friend who was unable to attend Sakura-Con this year that I'd get him a Band-Maid CD signed by them. After making the purchase, I received two blue tickets for what would appear to be something meant for a raffle the next day. Carmina had actually gone before me and got a bundle (a poster, shirt and CD) and got a red ticket and a blue ticket. She was lucky in the fact that she had gotten the very last shirt (and it was a small which was perfect). She did ask if I wanted the shirt and I told her that it'd be fine.
While I was getting the autograph, I had asked them all if the candy I had brought them the night before was good. They all seemed pretty happy about it and I was glad that they liked it. Though they'll probably start calling me the Okashii Okashi guy (a pun that went through my mind with the first one being spelled 可笑しい meaning weird/peculiar and the one afterwards being spelled お菓子 which means candy, so Weird Candy Guy).
After the autograph, we decided to head back to the hotel room and get a bit of rest (while the girls also changed back into their normal clothes). Since we were also going to look for some food, I decided to bring one of my nendoroids I had planned on doing a small photoshoot with but never got around to doing. Considering where we were planning on going to, I figured Chino would be a good choice to bring.
Shortly after the girls had finished getting into comfortable clothing, we went out to search for something to eat. We were initially thinking about eating at some small ramen restaurant, but it had looked like there was going to be quite a long wait. Since Jesse was already pretty familiar with the downtown Seattle area, he led us to a Japanese restaurant he frequented that would be open late (just in time for us) called Suika. The name in Japanese means watermelon, however you would have been able to figure that out considering there was a watermelon logo behind the text and that their popular drink was themed around watermelons.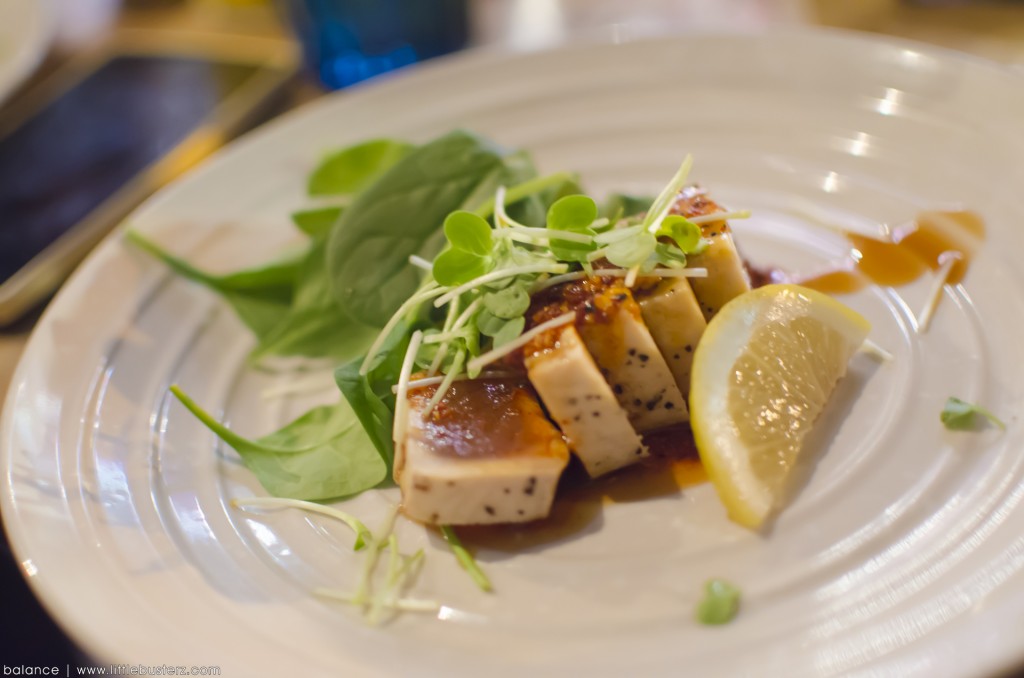 It was kind of expensive, but since I was pretty hungry, I decided to get a few things and spoil myself a bit. I got the Tuna Tataki, the ramen of the night (which was called Hell's Nightmare to which I was hesitant at first until I was assured it's not as bad as the name suggests), and a Watermelon Gin Tonic. The drink itself was very delicious and I couldn't even tell if there was any alcohol in there or not. I didn't want to feel tipsy though so I made sure to wait until I had some actual food in my stomach before actually finishing it. I don't really remember what drinks Leyzee and Jack had gotten, but it was pretty good too. A lot of us were pretty happy to be able to comfortably drink without worrying too much about it (even though we didn't drink much, we just liked the fact that we had the choice now).
The food there was absolutely amazing. It felt pretty comfortable too (adding in the fact that the employees there recognize Jesse due to his frequent visits). The ramen was definitely fairly low on the spicy level (think Flamin Hot Cheetos level) but still had enough to get a small kick. While expensive, it was certainly worth the money. If I ever get the chance, I will surely do my best to go there and check out their lunch menu.
I'm pretty sure that was it before we went to the hotel room. The only thing I think that's worth recalling was while we were heading back, there was a couple hiding inside some construction… thing (I'll have to find the proper wording for it later). It was hard to see them at first considering that there were drapes covering the construction, however it had looked like someone in a hoody waiting for a prey. Startled me when I noticed (I thought it was only one person at first) and I was ready for whatever was going to happen until I realized there was another pair of legs. Certainly a weird encounter and everyone else who noticed as well agreed.
We actually stayed up a bit longer than we thought we would (probably still savoring the food we had eaten), but after the usual routine of having Leyzee, Carmina, myself and then Jack take a shower, we went to sleep so we can enjoy the last day of the con.
---
DAY 2 COSPLAY PICTURE GALLERY